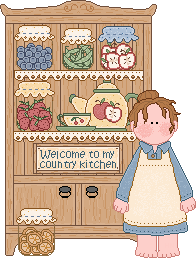 >

All of the recipes on these pages have been created and tested by me, and have become family favorites. Please feel free to enjoy and pass them along. They are listed in no particular order just hodgepodged together so go exploring and you might be surprised. All new recipes will be marked with an asterik.



HONEY MUSTARD CHICKEN WITH DILL

Ingredients needed:
1 whole chicken-cutup
1/2 cup Dijon mustard
1/2 cup Honey
2tsp Dill weed
1tsp Orange zest

Combine mustard, honey, dill weed and zest. Pull back skin on chicken and spread liberally under skin on chicken pieces. Spread remaining sauce on top and bottom of chicken. Bake at 400 degrees for 30 min, reduce heat to 350 and continue cooking for 15 to twenty minutes longer, or until juices run clear. Enjoy, makes a great alternative to traditional BBQ too!




OVEN ROASTED FRESH TOMATO SAUCE

Ingredients needed:
(makes 3 cups)
2 1/2 lbs fresh tomatos
1 tsp salt
1 1/2 tbs Olive Oil
1/2 cup chopped onion
1 cup water
1/2 tsp Basil

Use tomatoes held at room temprature until fully ripe. Preheat oven to 350F. Core each tomato and cut vertically into 4 slices. Arrange tomatoes on a lightly oiled 10x15-in, shallow baking pan. Sprinkle with salt. Bake until soft and slightly golden, about 1-1 1/2 hours.
In a large saucepan, heat oil over medium heat until hot. Add onion; cook and stir until softened, about 5 minutes. Add tomatoes, water, and basil; bring to a boil. Reduce heat to low and simmer, uncovered, for 30 minutes. Pour into the container of a food processor; whirl until smooth. Serve over pasta, chicken or fish, or use as a dip for breadsticks. Is also quite delicious in chunky form.



MARYANN'S BEST ZUCCINI RELISH

Ingredients needed:
12 cups grated zuccini
4 cups grated onions
2 cups grated bell pepper(I use at least 1 red one for color)
5 tbs salt
Combine the above ingedients and let set for 30 minutes.
Drain, rinse and drain again.
Then combine the previous ingredients with:
3 cups vinegar
5 cups sugar
1 tsp tumeric
2tsps mustard seed
2tsps celery seed
1/2 tsp black pepper
1 tbs pickling spice
1 tbs cornstarch
1 tsp dry mustard
Cook for 30 minutes and then ladle into clean pint jars. Water bath for at least 15 minutes.

This recipe is a wonderful substitution for pickle relish and is a great way to use all of the abundance of zuccini we all seem to have in the summertime.








<